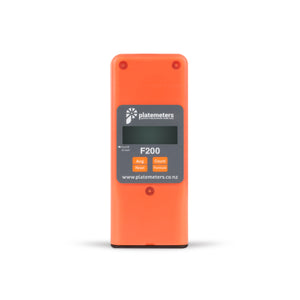 Description
Providing a simple, yet effective method of measuring pasture cover the F200 is the simplest platemeter to use, making it a great starter model.
The F200 gives on the spot pasture covers and has the software to assist with your pasture management requirements.  It provides dry matter per hectare on average height, audio alarm at 30 plonks (samples) will continue to average out any further plonks.
Results need to be written down after each paddock. 

The F200 Platemeter Counter can be used to convert your old AgHub or FarmWorks Platemeters.
How to upgrade:
Our Platemeters are designed to make it easy to change the counter yourself, feel free to give us a call if you require assistance.
Send it back to us directly
Send it back to us via your nearest FarmSource or Farmlands store
If you choose to send it back to us, we will change the counter, clean, service and calibrate the Platemeter before sending it back to you.
Features and Benefits:
Includes P-Plus pasture covers software, to ensure you make the best use of the information collected
Displays average heights and average cover
Beeps after every plonk and double beeps at 30 plonks
Rechargeable battery with low battery alert
Un-do function
Plastic plates that don't bend or buckle
Designed with parts that can easily and cost-effectively replaced, saving you time and money if you accidentally damage the platemeter
P-Plus Pasture Cover Module

A software program which provides a useful tool for recording and reporting pasture covers obtained by the platemeter
What's in the Box?
1 x F200 electronic counter
1 x Bracket and screw set
1 x Battery charger
1 x P-Plus pasture cover program
1 x Instruction Manual
Compare Models
Platemeters Model Comparison
F200
F300
F400
G1000
Can record covers manually
Y
Y
Y
Y
Display average cover in kgs/ha or lbs/acre
Y
Y
Y
Y
Reset button - at the start of each paddock
Y
Y
Y
Y

Average height

Y
Y
Y
Y
Number of plonks
Y
Y
Y
Y
Customised formulas
Y
Y
Y
Y
Undo feature
Y
Y
Y
Y
Remembers reading if switched off
Y
Y
Y
Y
Beep to show reading is taken
Y
Y
Y
Y
Electronic display
Y
Y
Y
Y
Rechargeable battery
Y
Y
Y
Y
Low battery alarm
Y
Y
Y
Y
Pasture covers software
Y
Y
Y
-
USB download/upload
-
Y
Y
-
Downloads to PPlus and mapping software
-
Y
Y
-
Pre-load paddock walk order numbers
-
-
Y
Y
Previous walk history
-
-
Y
Y
Turn off alter
-
-
Y
Y
Auto zero
-
-
Y
Y
Bluetooth
-
-
-
Y

Automatic formula recommendations and regional 

variations

-
-
-
Y
Shows walk and displays reading on farm map
-
-
-
Y
Change in kg DM/ha since the previous reading
-
-
-
Y
Edit previous walk history
-
-
-
Y
Restore deleted data
-
-
-
Y
Guides

F200 and F300 platemeter manual (pdf 352kb)
P-Plus user manual (pdf 13.6mb)
Download P-Plus via Sharepoint (exe 26.78mb)  then choose download