Grass Platemeter Range changes Ownership – 7th April 2022
GPSIT (New Zealand) have sold their interests in Rising Platemeters to Agricultural Supply Services (Goldingham Contracts Ltd) in UK.
The range includes very popular F200, F300, F400, G1000 models used by farmers in UK, New Zealand, Australia, Ireland, Europe,  North & South America.
MD Charles Goldingham says: 'We've been supplying farmers this excellent range of Platemeters since 2014 and are so pleased to take over ownership.
'Matt Flowerday (GPSIT) has done an excellent job in developing the G1000 Bluetooth model, but due to parts shortages there will be limited supplies of F&G series Platemeters for a few months'.
Agricultural Supply Services are also working closely with Grasshopper supplying their latest Bluetooth Platemeter, with the most advanced 'Field Mapping' Capability.
These will be launched in UK at stand P45 - Dairy-Tech on April 7th 2022.
'A Full Platemeter repairing support will continue, especially in New Zealand & UK, while NZ sales support etc is fully sorted out.'
'It has been a long held ambition to help hard-working Livestock Farmers to optimise their grazing practices, to improve profitability from grass, as well as helping to
store more Carbon – Platemeters are ideal for this' - Charles emphasised.
Pasture Measurement Made easy
Known as the gold-standard for pasture measurement, the electronic rising platemeter provides a simple and effective method of measuring pasture growth. Our Platemeters have been used by the dairy industry for years and are made from high-quality, durable materials, proven time-after-time to be strong, accurate and reliable. 
Compare models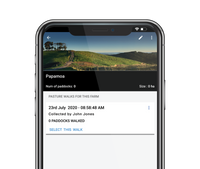 Platemeters App
The Platemeters App gives you fast and easy access to everything you need to know about the grass growing on your farm.
Learn more